SUMANT SINHA RENEW CENTRE OF EXCELLENCE FOR ENERGY & ENVIRONMENT, IIT DELHI
The Sumant Sinha ReNew Centre of Excellence For Energy And Environment was inaugurated by Hon'ble Minister for Human Resource Development, Shri Prakash Javadekar on Thursday, 12th of September, 2017 at the IIT Delhi campus
The aim of this Centre of Excellence is to:
Establish a world-class research & development facility to develop cutting-edge renewable energy solutions
Foster exchange of ideas between industry, academia and policy makers from across the world to promote faster adoption of renewable energy
Offer research and internship opportunities for undergraduate, postgraduate and Ph.D. students in industry
Develop research reports on renewable energy policy matters for Government of India and multilateral organizations
Skill enhancement of women engineers for entrepreneurship and in the field of renewable energy
Panel discussion on the partnership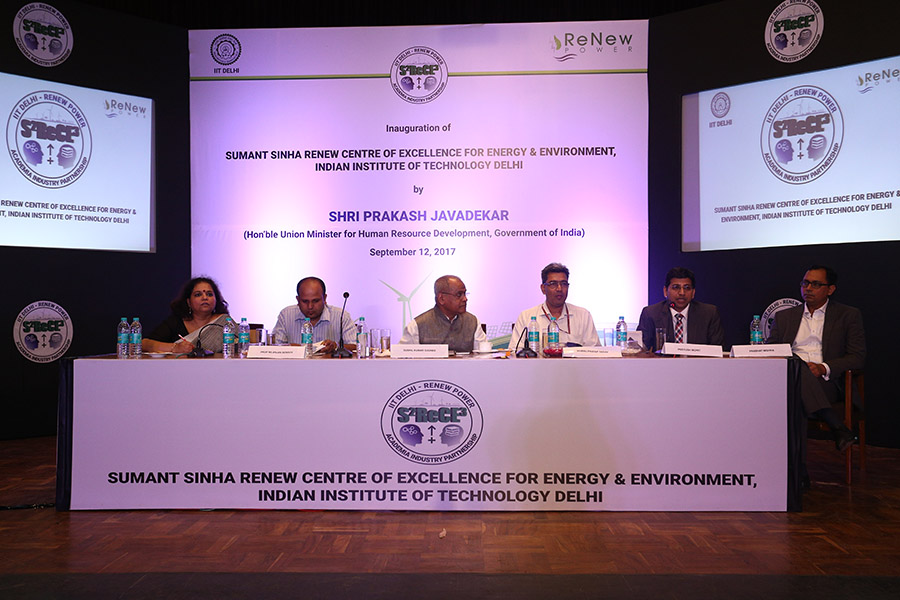 Panelist names (L to R): Soma Banerjee - Executive Director, Energy & Infrastructure (CII); Prof. Nilanjan Senroy – Indian Institute of Technology, Delhi; Sushil Kumar Soonee - Advisor at Power System Operation Corporation; Bhanu Pratap Yadav - Joint Secretary, Ministry of New and Renewable Energy (Govt of India); Peeyush Mohit – Vice President, ReNew Power; Prabhat Mishra – Vice President, ReNew Power
A hub for clean energy research
The COE will be a hub at IIT Delhi for clean energy related research and the endeavor is to make it the most reputable and eminent center for clean energy research. The Centre is currently undertaking research in the fields of
Integration of large scale solar rooftop capacity with the electricity distribution network using battery storage technology
Measures for strengthening of transmission grid to accommodate the flow of renewable energy from utility scale plants
Development of charging infrastructure for electric vehicles.
Research outcomes will contribute towards accelerated development of these evolving fields. Also, the outcomes would be shared with the relevant Government Institutions on a periodic basis to enable policy shaping.
Read More on "Recent Initiatives"
Inspiring Young Mind
Our Social Initiative
---
"We are proud to be associated with a clean energy thought leader like ReNew Power and are confident that the Centre of Excellence will go a long way in bringing to life the solutions and opportunities for prospective renewable energy scholars. The CoE will bring together knowledge and research on clean energy, facilitate clean energy investments, and help deploy clean energy technology solutions to establish India as a rising leader in the world of renewable energy."

V. Ramgopal Rao, Director, Indian Institute of Technology, Delhi
Learn More:
Inauguration event of Sumant Sinha ReNew Center of Excellence For Energy and Environment.